Installation instructions for the WJ Lower Quarter Panel Replacement:
Installation should only be performed by an experienced mechanic. If you do not have all the necessary tools, experience, or confidence to undertake this project, please seek help before beginning.
---
DISASSEMBLY & REMOVAL
Disassembly of Factory Bumper: The first step is to remove the factory bumper cover.This exposes the sheet metal that will be cut for the quarter panel replacement.
Tools:
T-20 torx driver
10mm socket
Flat head screwdriver
Wire cutters
Needle nose pliers
Locate and remove (2) T-20 torxs outside of hatch near taillight.
Locate (2) studs with 10mm nuts that attach the bumper cover in the wheel wells and remove the nuts only (the studs will come with the cover upon removal).
Locate (4) plastic rivets under the hatch and (4) under the hitch.Use a flat head screwdriver to pull the center tab out on each rivet.This will release the locking mechanism so the rivet body can be pulled out.
Locate (2) plastic rivets in each wheel well connecting the splash guard to the bumper.Cut or drill out each rivet to separate the bumper.
At this point, only (2) white clips on each side remain.To access these clips, lightly pull the bumper outward just in front of taillight.If the bumper cover is not being reused, you can pull hard enough to break these clips free.However, if the bumper cover may be reused, use a screw driver to depress tabs on clips while visible (see picture below).Once these clips are detached, the bumper cover is ready for removal.
To remove bumper cover, front corners must be pulled outward to separate the Step 2 studs from the body.Then pull the bumper rearward and separate from vehicle.Additional wiggling may be needed to help the plastic clear the hitch.
The foam crush structure is now exposed.To maintain the structure, you may attempt to drill out the rivets which hold it in place (see picture below).Otherwise, just physically pull and break it free (potentially in many pieces).
---
Removal of Sheet Metal:The next step is to remove the low hanging factory sheet metal that will be replaced with the Trail Forged WJ lower quarter panel upgrade.
Tools:
Tape measure
Sharpie or paint pen for marking
Hammer
4.5″ angle grinder with cutoff wheel
Reciprocating saw (sawzall) – if desired
Scraping tool of choice for removal of sound deadening foam
Outer quarter panel sheet metal
Draw quarter panel cut line and auxiliary cut lines (see pictures below).
Cut and detach outer quarter panel sheet metal to expose inner sheet metal.
Inner quarter panel sheet metal
Measure distance from floor height down to bottom of inner quarter panel sheet metal (roughly 6″ – 6.5″). Draw horizontal cut line approximately 1″ below floor level (around 5″ – 5.5″ as shown in picture). Ensure this cut will be below the floor sealant.
See second picture below for continuation of cut line forwards up the wheel well sheet metal to the outer panel.
Cut and detach inner quarter panel sheet metal.
Below tail light sheet metal
Create new cut line to continue the inner sheet metal cut height horizontally under the tail light (see picture below)
Using the Trail Forged outer panel as a template, trace new tapered cut line as shown in second picture below.
Cut and detach sheet metal from below tail light.
Inner connecting panel below tail light
Remove lighter gauge gusset using red cut lines as shown in first picture below.
Create horizontal cut line within 1/2″ of floor boards stopping just before pinch seam near frame rail.
Draw vertical cut line along pinch seam up to line above – make sure to leave spot welds intact on the frame.
Cut and detach panel as shown in before and after pictures.
Near the floor board, cut the pinch seam horizontally so it can fold flat independently.
Use the hammer to fold the pinch seam rearwards until flat against the frame rail (see picture).
---
INSTALLATION
Installation of Trail Forged Panels:  At this point, preparation is complete and installation of new quarter panel plates can begin.Each side includes three separate components: (1) Primary outer panel which connects the vehicle body and floor, (1) bottom panel that seals the floor and lines up with the outer panel, (1) back connecting panel to reinforce D pillar.
Tools:
Sanding disc to remove paint prior to welding
Mig welder
Sharpie or paint pen for marking
Bottom Panel
Test fit bottom panel in location and sand sheet metal until it sits flush against the floor.
Use a sharpie to mark spot weld holes on the body (see white dots in second picture below).
Once fit, remove panel to sand paint for final installation.
Install bottom panel and finish weld.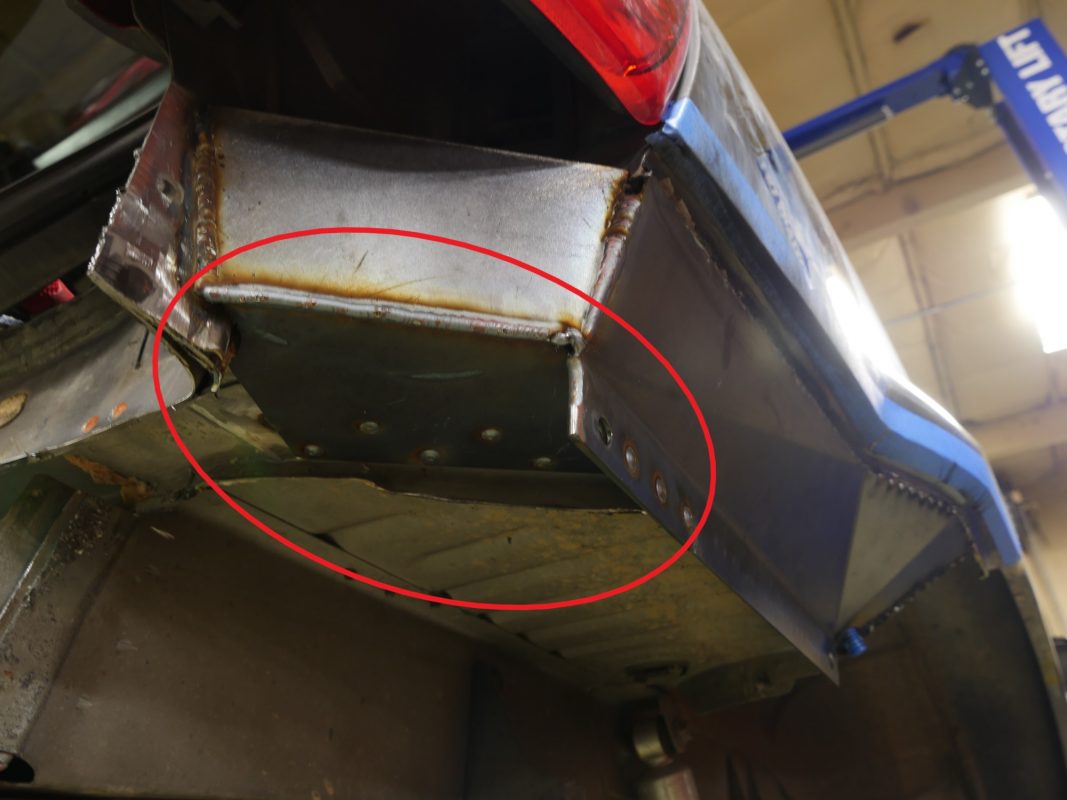 Outer Panel
Hold outer panel up to body and use marker to identify necessary sanding required for final fitment.
Sand and test fit until satisfied with final position.Fitment must ensure:

Rear bolt hole aligns with the bottom panel
Bottom flange is effectively vertical
Panel is pulled tight against floor
If you have a sunroof, pass the drain tube through the front hole in the panel before installation

Once alignment is verified, weld outer panel in place with evenly spaced tack welds to the body and three spot welds to the bottom panel.
Back Connecting Panel
Align back connecting panel with bottom and outer panel as shown in pictures.
Remove paint where back panel will be welded to the body.
Weld in place.Stitches to the body on vertical seams is acceptable, but full seam weld the back panel to the bottom panel for maximum rigidity.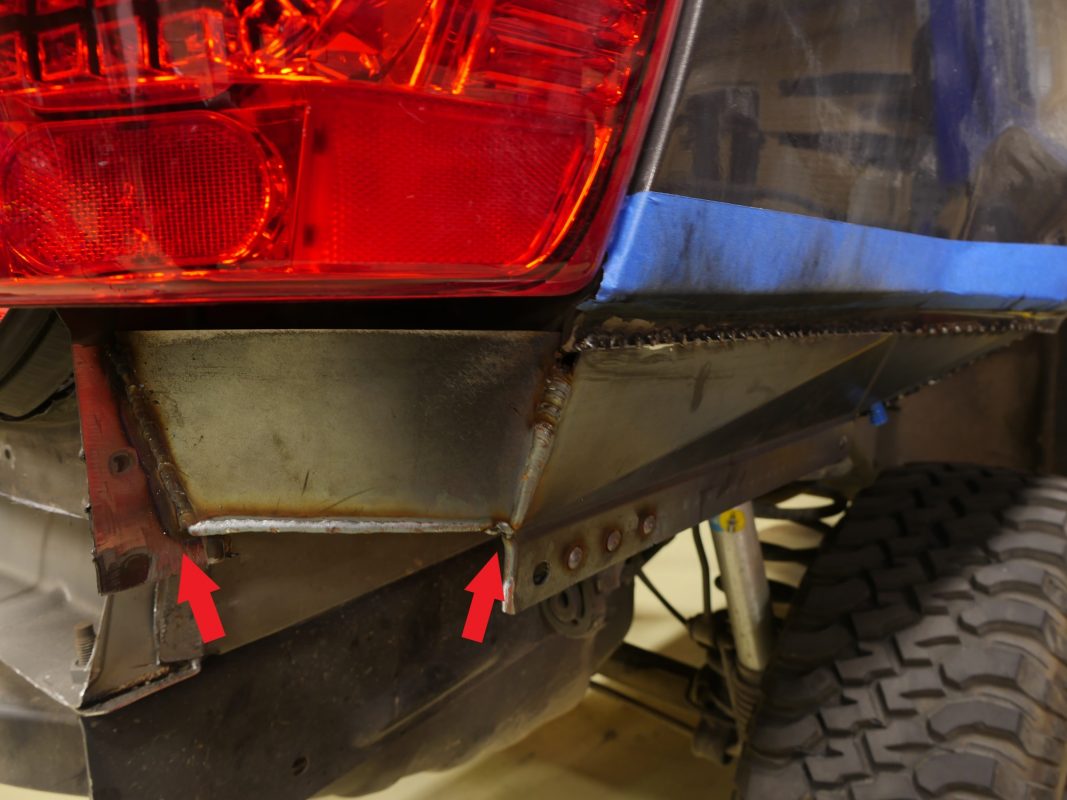 To finalize installation of Trail Forged panels, apply seam sealer to all points of body contact, trim sunroof tube (if applicable), and paint as desired.
---
Notes: These instructions are meant to be a general guideline and not a factory certified service procedure. We are not responsible for any failures or issues that may arise in others' installs. This product is intended for offroad use only, vehicle owner assumes all responsibility by purchasing and/or installing this product.