After using just about every pinion tool on the market in our shop, and finding drawbacks with all of them, we designed our own.
3/8″ Thick CNC Laser cut steel, Clear Zinc coated for longevity

1/2″ and 3/4″ Breaker Bar holes

3/4″ Pipe slot (regular hardware store 3/4″ steel schedule 40 pipe is perfect)
Improvements unique to the Trail Forged Pinion Yoke Tool
Larger than all other versions, allowing full use of breaker bar or pipe even when mounting to circular flanges like the Ford 8.8
Added a 3/4″ hole for even larger breaker bars, and you won't wallow out the 1/2″ hole

All 3 options of holding the yoke are further out, providing far more leverage, making it easier to use, and increasing the life of this tool significantly
Fits 1310, 1330, 1350, 1410, and more u-joint bolt patterns, on yokes and flanges, circular or otherwise, on all popular 2wd and 4wd transmissions, transfer cases, and axles, including AMC, Dana, Ford, GM, New Process, New Venture, Sterling, and many more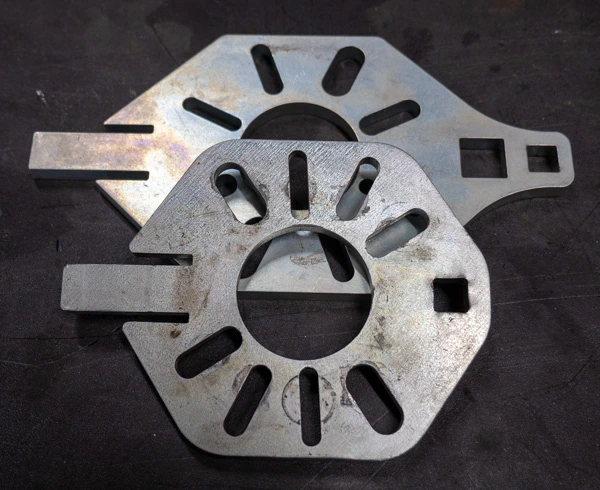 Trail Forged tool (rear) vs competitor
Competitor tool wrench slot already damaged after just a few uses, much smaller and harder to hold in place
Competitors tool
Even on a fairly small flange, you can see the breaker bar hole is blocked, making it impractical to use on flanges. The pipe slot at the top is also partially blocked, a problem that becomes worse on larger flanges.