The first fully modular, customizable bumper solution for WJ Grand Cherokees. These are the bolt on outer wings that can take your stubby bumper to full width bumper in minutes! We offer several different wing variations so you can customize the look and clearance of your WJ to suit your build!
Precision CNC cut

DIY style for you to weld together

Designed with ultimate approach angles in mind

The highest clearance full width WJ bumper available

Even the high clearance version leaves your header panel supported, so don't worry about headlights flopping around after cutting out important factory structure!

Includes super strong 3/4″ plate D-Ring recovery tabs

Proudly hand built in the USA
Fully Modular
Modular, bolt together design can be customized, expanded, or modified at will without having to replace the entire bumper

Wing style options:

Mid clearance wings w/ d-ring tabs (minor sheet metal trimming, relocate horns)

High clearance wings w/ d-ring tabs (more sheet metal trimming, relocate horns)

Custom wide wings for Bushwacker flares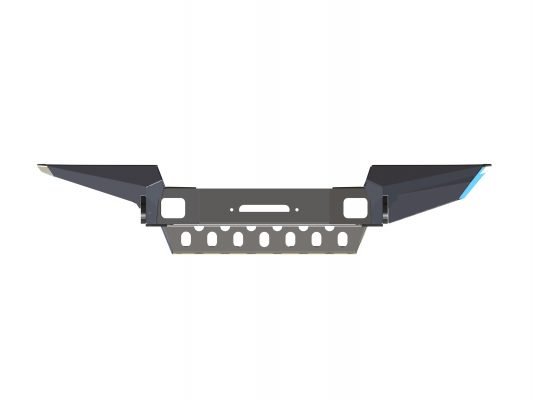 Super high and tight design
Carefully engineered to hug factory exterior lines, the big giant park bench style bumpers are no longer your only option!

Designed for maximum clearance in front of your tires, even the mid wings net significant gains over stock and trimmed bumpers, and even higher than most of the factory sheetmetal.
Notes:
If you are adding wings to an existing Trail Forged stubby bumper that you DIY assembled yourself, we strongly recommend you DIY your wings to ensure you can line them up with the body on your Jeep. We build our bumpers and wings in house on a precision jig, and any slight variance in DIY assembly could affect alignment.

If you already have our bumper AND D-Ring tabs, you can choose to not purchase new tabs and use your existing ones. If you select bolt in, but remove the d ring tabs because you already have a set, you will need to weld the assembled wings to your existing tabs.

Mid height wings require some trimming and possible horn relocation. High wings require more trimming, and we suggest some minor stitch welding of the factory sheet metal under the bumper for ultimate strength.

Production lead time can be up to 4 weeks. Our products are made by hand at our shop in Northern California. We take pride in our craftsmanship and want to ensure you receive the best possible product. Please message us before ordering if you need a product by a specific date.