Unbreakable Warranty
Our mission is to build components SO strong, you never have to worry about something failing when you're out in BF nowhere, exploring and doing what your Jeep was meant to do. This is where our Unbreakable Warranty comes from. 
The confidence to venture forth, the toughness to always come back home.
Look for our Unbreakable Warranty logo on a product page for what we guarantee. If you do somehow manage to break one of our parts, whether it be a steering link, a trackbar, control arms, etc…. we will replace it. I would say no questions asked…..but you'll have an epic story of doing something very questionable, so we'll want to hear it!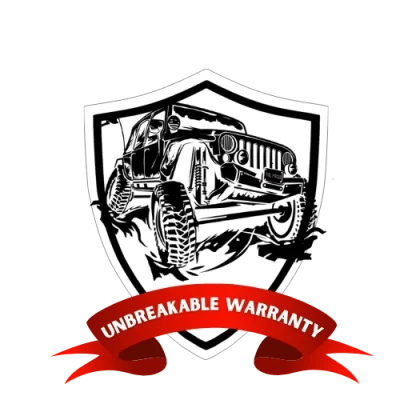 Now, there are some common sense exceptions to our warranty, and we think they're more than reasonable. Damage/wear not covered by our warranty:
Your Jeep was involved in a collision and our part broke

A wearable item wore out (heim joints, flex joints, bushings, bearings, seals, etc that have a limited service life)

Damage to coatings, powder coating, etc…. we expect you to use your Jeep, scratches are a badge of honor!

Improper installation, or modification of our parts. If your mechanic installs something backwards, in the wrong place, welds something to it, etc… well, fire your mechanic first, and then have them buy a replacement part!

Severely improper use…. YOUR TIE ROD IS NOT A RECOVERY POINT!!!

Thread failure from improper thread engagement or failure to tighten jam nuts.
We want to thank you for your interest in Trail Forged. We welcome any inquiries and questions you may have.
Feel free to email us at trailforged@gmail.com
Sean M Inglesby, President